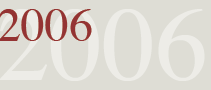 2006
SEPTEMBER
The 1000th superconducting 'cryo-magnet' was installed in the LHC tunnel. Altogether 1746 cryo-magnets of different types, of which 1232 are the blue dipole magnets, are needed to complete the accelerator.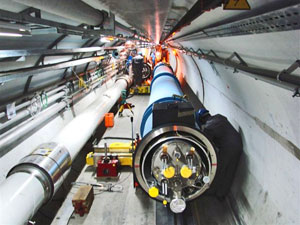 OCTOBER
Construction of the largest refrigerator in the world is complete. The 27 km cryogenic distribution line inside the LHC tunnel will circulate helium in liquid and gas phases to provide cryogenic conditions for the superconducting magnets of the accelerator.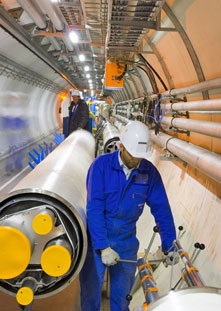 SEPTEMBER
The CMS experiment's solenoid magnet reaches its full magnetic field of 4 teslas. This is the world's largest superconducting solenoid magnet, built around a 6-metre diameter, 13-metre long superconducting solenoid coil. The 2.5 gigajoules of energy it can store is enough to melt 18 tonnes of gold.