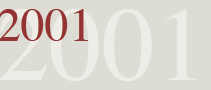 2001
NOVEMBER
In the empty LEP tunnel, surveyors begin two years of work to mark all the sites of the components of the LHC.
Around the 27-kilometre tunnel, 7000 marks must be made.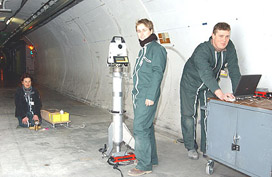 DECEMBER
CERN hands over mass production of the main dipole magnets to industry, which must produce 1250 magnets, including spares. This is an example of technology transfer, as CERN provided the industries with the equipment and training needed to make the magnets.